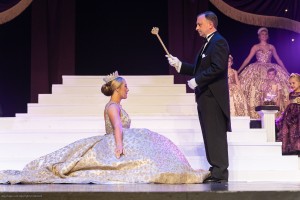 On Wednesday, October 19th, 2022, Yamboree President Jordan Glaze crowned Queen Caroline Michelle Dean as the 85th Yamboree Queen, The daughter of John and Jennifer Dean graced the stage wearing a golden color gown with a train which thousands of beads and gemstones continuously sparkled under the stage lights of the Gilmer Civic Center. She is also the granddaughter of Sandy and Elliot Dean. She is representing the 20th Century Club.
The Queen's coronation is one of the highlights the Yamboree festival which continues through Saturday night. A second Queen's coronation performance will take place Thursday night.
The formal presentation of the Queen's court also featured the 84th Yamboree Queen Hannah Jean Henson. She was escorted by the 2021 Yamboree President, Joel Murry. Princess Addison Kate Walker, Duchess of Gilmer Rotary Club was also presented along with ladies in waiting, visiting duchesses, escorts and children attendants to the Queen.
---