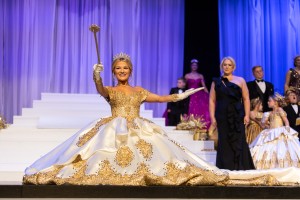 Addison Jayne Young was crowned as the Queen of 86th East Texas Yamboree on Wednesday, October 18th, 2023 by Madame President Abigail Stewart, the first female Yamboree president and the 60th East Texas Yamboree Queen (1997). The Queen is the daughter of Marty and Meghan Young. She graced the stage with a beautiful white gown bedazzled in gold. The letter "Y" is emblezoned on her matching train.Her court colors are black and gold. Addison will cary on the Family legacy of Yam Queens. She's the niece of the 58th East Texas Yamboree Queen, Natalie Young (Gandy) 1995 and cousin of Audry Nolan, the 82nd East Texas Yamboree Queen. She's representing the Bluebonnet Literary Club.
The Queen's coronation is one of the highlights the Yamboree festival which continues through Saturday night. A second Queen's coronation performance will take place Thursday night.
The formal presentation of the Queen's court also featured the 85th Yamboree Queen Caroline Michelle Dean. She was escorted by the 2022 Yamboree President, Jordan Glaze. Princess Madison Winn, Duchess representing the Kiwanis Club was also presented along with the other ladies in waiting, their escorts, visiting duchesses, and children attendants to the Queen. New this year are the representatives of the different courts. The Court of. Light, Snow and Ice, Celebrations, Nature, Fire & Patriotism.
---